2015 was a great year for hip-hop! This year brought along a lot of great projects and vast success for artists. Just to name a few accomplishments, J. Cole's album went platinum with no features, Big Sean gave us the biggest album of his career, and Future had a 3-peat heat streak with his mixtape releases following a #1 album. These 3 artists, and more, deserve all the success and praise that comes their way by blessing us with a great year in music, but we can't forget about the ones behind the boards who helped along the way.
When you watch a movie, some of us enjoy the film so much, we don't think to sit through the credits and see who and what made all this awesomeness possible. I'm taking the time give a little recognition to some of the producers I think made 2015 a hot year in hip-hop. Check out who made my list for producing champs of the year, so far, and the hits they worked on.
Zaytoven
Zaytoven is no rookie in this game. This Grammy winning producer has made a name for him in the south as one of the most prominent producers for his work with popular Atlanta artists. His extensive discography goes down the list of artists from trap rappers to R&B singers. He is probably most known for his work with Gucci Mane on countless mixtapes and albums, but in 2015 he hit hard with Future's "Beast Mode," which released earlier in January. Zayotven produced the entire 9-track mixtape and it happens to be my personal favorite out of the last 3 mixtapes from Future. He's also been responsible for his work on other projects over the last year such as Young Dolph's "16 Zips," Migos' "No Label II" and "Rich Nigga Timeline," and Future's "DS2."
My favorites this year included:
Law 3 – Shy Glizzy (December 2014)
"Everything Golden"
"Celebration" featuring Bobby Shmurda
Beast Mode – Future
"Foreva Eva"
"Peacoat
"Lay Up"
DS2 – Future
"Colossal"
"Kno Da Meaning"
Trapavelli Tre – 2 Chainz
"BFF"
"Starter Kit"
Vinylz
I've payed close attention to some of Vinylz' work this year. This New York native straight out of Washington Heights knows his way around a sample. He studied and mastered the game by starting out at the age of 15. Vinylz hones his craft by working with other great hitmakers, such as Swizz Beatz and Boi-1da. He's also responsible for working behind big hits with artists such as Jay-Z, Drake, and Nicki Minaj. In 2015, tracks he produced received huge radio play. There's still time left before the year is over for him to hit us with more dope music.
My favorites this year included:
2014 Forest Hills Drive – J.Cole (December 2014)
"A Tale of 2 Citiez"
"Fire Squad"
The Young OG Project – Fabolous (December 2014)
"Bish Bounce"
"Gone for the Winter"
"Blessings" – Big Sean featuring Drake
"Planes" – Jeremih featuring J. Cole
"R.I.C.O." – Meek Mill featuring Drake
Metro Boomin
Take a look at the potential DJ for my future wedding, Metro Boomin. Since a youngin', Boomin been that nigga. He's been in the studio with big name artists since he was in high school. Now at the age of 21, he's got his own signature sound with the rap game behind him. Last year, he worked on several projects including producing big chunks off of Future's "Monster" mixtape and Travi$ Scott's "Days Before Rodeo." He also makes magic in the studio by collaborating with other big producers, like Southside and Sonny Digital. 2015 was another big year for Metro, especially with the release of the highly anticiapted "Rodeo," which he produced a few tracks for.
My favorites this year included:
"Want Some More" – Nicki Minaj (December 2014)
"Jump Out Da Face" – Meek Mill featuring Future
"Blow A Bag" – Future
Rodeo – Travi$ Scott
"3500" featuring Future & 2 Chainz
"Wasted" featuring Juicy J
DJ Mustard
Last year in 2014, you couldn't go anywhere without hearing a track produced by DJ Mustard. Artists couldn't wait to get their hands on a Mustard beat that would make the club go crazy with a little Cali spin thrown in there. DJ Mustard was so hot in 2014, songs like Iggy Azalea's "Fancy," imitated his iconic sound. That didn't slow Mustard down though and he had more than just a great year in 2014. He kept the same momentum and gave us more radio-friendly hits for 2015. Mustard has to be some kind of miracle worker with his production, because somehow he gets Kid Ink airtime. He also dropped the second volume to his "10 Summers" mixtape in July. I'm almost certain Mustard has more hits under his belt later in the year as well.
My favorites this year included:
"Pose To Be" – Omarion featuring Chris Brown & Jhene Aiko
"I Don't Fuck With You" – Big Sean featuring E-40
WondaGurl
WondaGurl first surfaced on the scene with her work on Jay-Z's "Crown" in 2013 on Magna Carta Holy Grail. Since then, she's had her hands on songs with noteworthy artists. She's especially worked closely with Travi$ Scott and worked with him on "Company" from Drake's surprise album this year and also on tracks from "Rodeo." Although she's young in age and new to the game, she let's it known she's just like one of the guys and hits hard with her 808 combos. You can also expect to hear her work on Young Thug's newest release "Slime Season."
My favorites this year included:
"Used To" – Drake featuring Lil Wayne
"All Your Fault" – Big Sean featuring Kanye West
"Bitch Better Have My Money" – Rihanna
"Antidote" – Travi$ Scott
Boi-1da
Grammy-winner, songwriter, and mentor are just a few ways to describe producer Boi-1da. He's had his fair share of working with a variety of artists but is known most for his relationship with his fellow Canadian native, Drake. If you're not familliar with Boi-1da, then I doubt you've heard much Drake over the last couple years. He's responsible for a lot of Drizzy records and even first started out on his first mixtape! 10 years later, his work on Drake's latest last minute album went platinum and he produced just about half of it. He also worked closely with Kendrick Lamar and Big Sean this year, who both had albums this year that I consider dope.
My favorites this year included:
If You're Reading This It's Too Late – Drake
"Energy"
"10 Bands"
"No Tellin"
"Know Yourself"
"You & the 6"
"6PM in New York"
"Win Some, Lose Some" – Big Sean
Mike Will Made It

I'm such a big fan of Mike Will Made It's work. He expanded from more than making trap music to becoming a superproducer and working with pop star's like Rihanna, Miley Cyrus, and Ciara. God is not only blessing all the trap niggas, but is blessing all the trap producers too! Almost everything he touches is fire. However, 2015 was a slower year for this hitmaker compared to all the hits he was responsible over the last 3 years. He chose to make Rae Sremmurd his main focus this year. He signed the duo to this label Ear Drummers and together they gave me one of my favorite projects of 2015. Their debut album "Sremm Life" was mostly produced by Mike Will and was full of energy and fun, upbeat tracks. Their singles received good reception on the radios too. We should expect to hear more music from Mike Will and Rae Sremmurd later this year and I'm definitely looking forward to it!
My favorites this year included:
SremmLife – Rae Sremmurd
"No Type"
"No Flex Zone"
"This Could Be Us"
"YNO" featuring Big Sean
"Come Get Her"
"Throw Some More" featuring Nicki Minaj & Young Thug
"Paradise (Extended Version)" – Big Sean
London On Da Track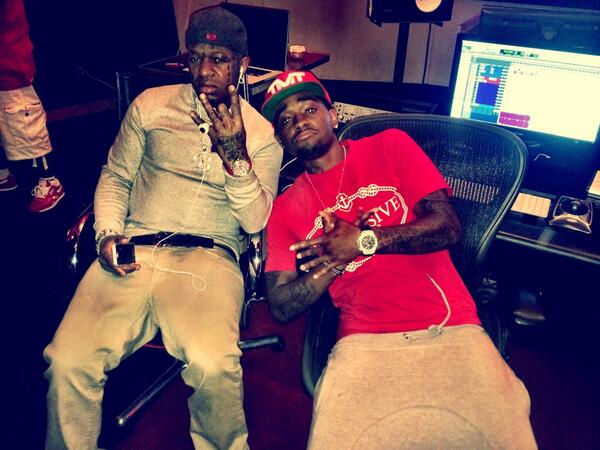 Shoutout to London On Da Track, essentially for his affiliation with Young Thug, who is one of the most interesting artists in the spotlight in 2015. The catchy meolodies and questionable lyrics put Young Thug in the limelight but you can't forget about the bass-thumping beats given to us by London On Da Track. Most of Thugga's biggest songs in 2014 were produced by London On Da Track. This year, these 2 blessed our ears with the payday anthem "Check" and tracks off of Young Thug's latest mixtape "Slime Season." Could their teamwork be the most lethal rapper/producer collab this year? We'll see!
My favorites this year included:
Barter 6 – Young Thug
"Check"
"Numbers"
Slime Season – Young Thug
"Again" featuring Gucci Mane
"Draw Down"
"No Way"
So who takes the tittle for the producing champ? Who was your favorite producer this year? Did I leave a contender out? Leave a comment below!